Hip Hook - Free Shipping for a Limited Time
---
Congratulations! You are one of the first to free your hip with the Hip Hook, the world's first tool designed to specifically release tension in the iliacus muscle. Just a few minutes a day with the Hip Hook can provide long-term pain relief to the lower back, hips, tailbone, knees, and feet.
Limited quantity in stock and now shipping! 
Estimated delivery is within 20 days of purchase.
Order today and get FREE SHIPPING in the US!
You'll love it, but just in case, there's a 14-day money-back guarantee.
Patent Pending
Customer Reviews
Write a Review
Ask a Question
Filter Reviews:
Hip Hook
pain
hips
tool
Relief
psoas
muscles
iliacus
back
back pain
09/23/2020
Dheeraj S.
United States
Lower back pain GONE
It has cured my debilitating lower back pain that has bothered me for at least 15 years.
09/24/2020
Hip Hook by Aletha
Hi Deeraj, That is absolutely amazing! We are super excited for you to keep making improvements and feel great with your body. Thank you for leaving a review! Live with Ease, Team Aletha
09/22/2020
Melissa B.
United States
It does work!
I've had this tool for 10 days and I am already noticing a difference. My muscles do feel like they are loosening up and pain is slowly being alleviated. I have a low back issue (disc is reversed in my spine) which causes low back pain, hip pain and recently knee pain. Much of the hip and knee pain is from an excessively tight psoas muscle, which is challenging to stretch and loosen yourself. The hip hook does work to get into this muscle. It's not an overnight correction by any means but there is rarely a quick fix. I'm keeping this product and plan to share with others so they can try it for themselves.
09/21/2020
Sarah L.
United States
SI joint releif
I have begun to use the hip hook to resolve issues with SI joint and hip pain. This is a 12 year old injury, and when I released the right and left Iliapsoas areas, I immediately felt less pain in the hips and more mobility. There is more healing to do, but this hip hook has started that process. I am one person who had a diagnosis of a leg length difference that never made much sense to me, so after no improvement for the past decade using a lift, I quit it, creating a cascade of changes. This Hip Hook seems to be helping that process move orward.
09/21/2020
Jennifer R.
United States
What a relief
There is not a PT group where I live that can do the rehab required to relieve my issue. It is beyond fabulous that I can administer my own PT and get the relief I need for the pain.
09/20/2020
Lydia B.
United States
Helpful tool!
Relieving lower back pain and tightness, SI joint hyper mobility, and twisted right hip
09/20/2020
Kathleen D.
United States
Grateful
I'm grateful to have this product. It helps my SI joint dysfunction immensely, where injections weren't completely effective and never lasted long enough. When I don't use it for a few days, my body definitely reminds me that I need it. I have significantly less pain when I use the Hip Hook consistently.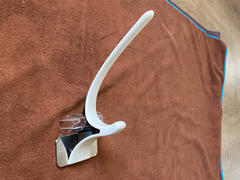 09/20/2020
Christine G.
United States
Home use tool for PT
Allowed me to have a tool at home to use in addition to stretching, strengthening outside of my physical therapy with a specialist.
09/20/2020
Corey M.
United States
Sweet relief is finally here...
The Hip Hook first proved that the source of my knee pain and foot numbness was linked to the iliacus. It also was the perfect way to begin opening up that muscle that was neglected for so long. The initial results happened fast. Now it's just a matter of maintenance. Crazy to think this little tool was all I needed all a long.
09/20/2020
Zack E.
United States
Hip hook works miracles
The hip hook is the only tool on the market that can truly get into you iliacus and psoas! It's really the only way to release these muscles without having another person use their hands! Would definitely recommend this product.
09/20/2020
Jo B.
United States
Finally!
Finally.. I had tried everything Up to this point and found only minimal relief that wouldn't last. I have had chronic low back pain for a yr and half and literally have been rolling around in the floor everyday with one ball or another or this or that and could never get anything deep enough to release my tight muscles just to be able to stand up straight and walk. This was excruciating at first I'm not gonna lie but I have used it everyday since I received it and it has helped tremendously!